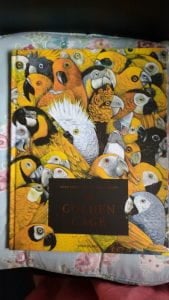 "The Golden Cage" by Anna Castagnoli and Carll Cneut can only be described as a stunning piece  of art, but it is also a salutatory lesson in how not to behave towards humans and birds.  The story itself is a cautionary tale of a very nasty princess who loves collecting birds, but kills off servants who don't bring her exactly what she wants.  This is very much about what happens when there are no rules, because Princess Valentina is totally spoiled and no one tells her that there are limits on what is possible.  The illustrations are amazing; they are vibrant, sophisticated, full of emotion and bring the story to life.  There is a very limited colour palette and the strong use of the colour yellow highlights the title of the book and the importance of the 'golden cage' as the place where her most treasured acquisition will be held captive.  The ending of this fairy tale has been left open, so that we can imagine a variety of plots, to suit our mood.  Somehow this reminds me of the Brothers Grimm and I think it will be a great read with older children despite the small amount of text.
"Tomorrow" by Nadine Kaadan is a story about living in a war zone and there are moments when it is quite
heartbreaking.  The young hero Yazan loves going to the park to play but life suddenly changes and he doesn't know why.  He gets bored not going to school, not meeting his friends and not going out to play, so one day he decides to take his bike to the park; but nothing is as it should be and thankfully his father finds him before anything happens. The illustrations often have a darkness about them that reflects the reality of life that the family are living and Yazan is shown as being a very young child caught up in a dangerous world. This thought provoking book really adds to the collection that is developing and which helps young children understand what it has been like to live in some of the war zones around the world.  It will also hopefully help them develop their empathy with those who have lost their homes and had to move to another country.
"Julian is a Mermaid" by Jessica Love is a delightful story about being true to yourself and about others accepting that we are all different.  When Julian is walking home with his grandma they see a group of ladies dress as mermaids and Julian decides that he want to be one too.  At home he finds an assortment of clothes to help in his transformation and even put on some make-up.  His Nana reacts in a very supportive way and gives him a bead necklace to finish his look and then they go off on a walk.  During this stroll they see a range of very individual and vibrantly dressed people and finally they start to see lots of mermaids; much to Julian's delight.  This is actually a carnival and people are allowing themselves the pleasure of dressing up.It is a delightful way to show the way that a wide range of people can live in harmony and enjoy life.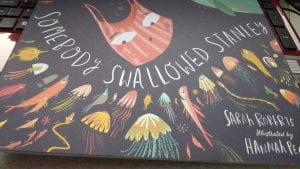 "Somebody swallowed Stanley" by Sarah Roberts and Hannah Peck is a very unusual but very relevant look at plastic waste and the effect on the sea.  Stanley is a striped plastic bag and he finds himself blown into the sea where he is in turn swallowed by a Whale, Seagulls and a Turtle; luckily they were able to free themselves, but the Turtle need the help of a young boy.  The boy then tells Stanley that he should not be in the sea, because creatures think he looks like a jellyfish.  The boy then turns Stanley into a kite which is much more appropriate.  This is a very simple story but it acts as a perfect introduction to looking at our environment as well as being a great story.
"Clem and Crab" by Fiona Lumbers is another story that helps us look at our environment and in particular the issues that we find along our beaches.  Clem loves visiting the beach with her sister and fishing around in the rock pools, searching for wildlife.  One day she finds a small crab and although she puts it back into the water, it somehow manages to get caught in her clothing and end off back in the city.  Clem would love to keep her new friend but knows it must be returned to the beach; but how can she help make that a safe place for the crab?  This is a lovely book at friendship and helping others and would be fantastic if you were planning on visiting the seaside.
"I am a Tiger" by Karl Newson and Ross Collins  is a delightful story of a mouse who
wants everyone to believe that he is a tiger.  The absurdity of such a claim becomes apparent as he wanders along and meets a wide range of animals, none of which are correctly identified; this leads them to be sad and frustrated as they try and make this small creature understand who they are.  In some ways this has the feel of the Gruffalo as the mouse is walking though the landscape and is telling 'stories' to the animals he sees.  It is also a story about identity and perhaps about not being limited by our physical appearance.  Most of us know who we are but often like to imagine that we have a different persona.   I am delighted to find that a follow up called "I am not an Elephant" is scheduled to be published early in 2020, I can't wait to read this as well.
"Walk on the Wild Side" by Nicholas Oldland is the third in a series of adventures featuring Moose, Bear and Beaver.  In this story they decide to climb a mountain, but find that it is much harder than they had imagined.  After lots of danger and obstacles they discover that the only way to succeed is by helping each other, and then they finally achieve their objective.  I love these very simple, humorous stories that each give a very strong message and look forward to many more adventures for the intrepid trio.
"The New Neighbours" by Sarah McIntyre tells the story of the what happens when the
residents of a block of apartments discover that a family of rats have moved in to their building.The bunny children are the first to find out and they are looking forward to going and meeting their new neighbours.  But as they tell more people, mainly adults,  we see attitudes change as people believe the stereotypes they have heard in the past.  Thankfully when they finally meet the neighbours they realize that they are just the same as everyone else.  This is a charming story with a strong and very important message about not listening to gossip and not judging people because of their backgrounds.  As always Sarah McIntyre's illustrations are colourful, energetic  and funny and it is a great story for reading aloud.
"Cyril and Pat" by Emily Gravett  tells the story of  Cyril, a grey squirrel who finds himself living alone in the park. Then one day he meets another 'squirrel' called Pat and
suddenly he has a friend to share adventures with; however we can see that Pat is actually a rat, not a squirrel.  Eventually the other creatures tell Cyril the truth and Pat is forced to leave the park, leaving his friend alone again.  The story does have a happy ending and the two are able to resume their friendship despite being different.  Emily Gravett  has given us a wonderful story of friendship, acceptance and empathy.  It is full of humour but also has its fair share of pathos; it is a wonderful tale.
"Flat Stanley" by Jeff Brown and Rob Biddulph was first published in the UK in 1968 and since then it has become a perennial favourite with young children.  They love the quirky and imaginative  story of a young boy who is squashed flat, but then goes on to have amazing adventures.  In this version Stanley saves the museum from robbers and is flown as a kite, however he has to cope with people being mean because he is different.  Luckily his brother comes up with a solution and Stanley is pumped back into shape with a bicycle pump.  This version of the story is illustrated by Rob Biddulph with his characteristic
"Sweep" by Louise Greig and Julia Sarda tells the story of Ed and what happens when he allows his dark and angry feelings to get out of control.  There is the wonderful analogy of
sweeping up dead leaves, but what do we do when they become too many for us to cope with and begin to effect those around us?  Luckily a wind comes along and blows away his bad mood and he learns to think twice before allowing it to take over again.  This is a very dynamic book with energetic illustrations which really help us visualize the issues that Ed is facing. The  story is very simple but absolutely gets its message across; it will be great for helping young children come to terms with their own emotions as well as those of others around them.
"There's Room for Everyone" by Anita Teymorian is a very thought provoking story about our world and about sharing the space that we have.  This is something of a
philosophical look at our world and how we seem to always want more space, yet this book reminds us that there is always room for all of us; this includes humans and animals.  At a time when there are refugees across the globe, forests are  being cut down and housing seems to be at a premium, perhaps we need to remember some of the ideas in this story.  The illustrations are sophisticated and get also naive but manage to convey the meaning of the text in a way that we can readily relate to.  I am sure this will find its place in the discussions about our world and the way we all live.
There are so many amazing new picture books out there that this is just the beginning of my selection.  I am busily working on another collection and then there will be some brilliant books for Middle Grade that I hope to highlight in the near future.  I have not forgotten about information books and my collection to share with you is growing, so look out for the next selection.