I know that this is a really odd title for a blog post but I think it reflects the sensation when children first discover that they can read longer books with pleasure and a certain degree of fluency.  It is like learning to walk, ride a bike or even to swim; there is a feeling of freedom and having some control over the environment in which you find yourself.  In other words it is a truly liberating experience which will stay with you for your whole life.
"The New Teacher" by Dominique Demers and Tony Ross is the first in a
series of books by this French Canadian author and which was first published in 1994.  It is a short and very witty story about what happens when Miss Charlotte arrives to teach a class of young children who do not enjoy school.  Her somewhat eccentric methods eventually make her very popular, but the children find that they have to fight to keep the teacher they have come to love and admire.  As a follow on, you might like to read "The Mysterious Librarian" which sees Miss Charlotte take on the challenge of encouraging children to enjoy reading.
"The Spooky School" by Tracey Corderoy and Steve Lenton is another set of short stories about the cake-baking, crime-fighting duo of Shifty McGifty and Slippery Sam.  They originally started their adventures in picture book format but have now branched out for the next age group.  In this book they save jewels, fight ghosts and meet a fiendish new villain; a Red Panda called 'Red Rocket'.  It is great fun.
Tamsyn Murray  has written "The Troublesome Tiger" as the second story
in the "Tanglewood Animal Park" series which follows the adventures of young Zoe, whose parents have bought Tanglewood Manor and turned it into an Animal Park.  This story revolves around Tindu the male Tiger and the attempts to help him settle down in the park, before the arrival of his new mate.  It is a charming story with a lot of information and a cast of characters that you can't help but like.  This is a super series, especially if you are an animal lover.
"Captain Pug" by Laura James and Eglantine Ceulemans follows the
adventures of  young Lady Miranda and her dog called Pug as they visit the local boating lake.  However when things get out of control and Pug finds himself in the sea and being rescued by another young girl life becomes quite adventurous.  This is the first in a series of adventures for the pampered pooch and joins the list of books written about the breed.
"Pugly bakes a cake" by Pamela Butchart and Gemma Correll is another
Pug related story only this time the hero is called Pugly and he is trying to bake a cake for his owner.  Unfortunately his efforts seem to be being sabotaged by Clementine (Clem) the family cat.  Most families with a mix of pets will understand the frictions between the main characters and the very funny scrapes that they get themselves in to.
"Marge and the Pirate baby" by Isla Fisher is the second book featuring Marge, a truly unique babysitter. This time she is looking after Jemima and Jake as usual, but finds herself having to look after their demon of a baby cousin called Zara.  There are three short stories in this offering and I think that the author is really starting to be comfortable with her characters, which means that we become more involved with the stories.  This is a funny and quirky book for both boys and girls.
"HILO, the boy who crashed to earth" by Judd Winnick.  What do you do when you discover a boy that says he fell from the sky and does not know
where he is from.  That is the situation that D.J and Gina find themselves in and they then have to try and find a way of sending him back home.  This book is the first in a series of comic style books being published by Puffin.  It is bright , well illustrated and full of humour; in other words it is great for boys in particular, although the strong female character makes it fun for everyone.
"Jinks & O'Hare Funfair Repair" by Philip Reeve and Sarah McIntyre is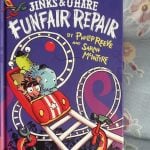 another one of their fantastically funny collaborations.  Set in Funfair Moon it is full of zany aliens, dastardly villains and a clever heroine called Emily.  As you would expect this will take you on a 'roller coaster ride' of excitement.  The illustrations are full of the energy and humour that we have come to expect.  It is a great book to read alone or to a class.
"The Bolds on Holiday" by Julian Clary and David Roberts.  Once again we enjoy the company of the Bolds, a family of hyenas who are living in
Teddington, disguised as humans.  This book sees them and their friends going to Cornwall on their summer holidays.  As usual there are lots of 'groan worthy' jokes as well as puns, both written and visual.  I love the way that the author's voice comes across so easily and the illustrator's ability to translate all of this visually.  A really great read for all ages.
"Rabbit and Bear" by Julian Gough and Jim Field is about the developing friendship of Bear and Rabbit.  Bear wakes up during winter as a thief stands
on his nose as they are leaving his cave; that is when he finds that all his food is missing.  He goes outside and discovers the wonder of the snow.  Rabbit offers him a moldy old carrot to eat, which he is very grateful for.  However he does not know that it is Rabbit who has stolen his food. When a wolf comes looking for some food the two friends have to work together and Rabbit in particular learns a few things about friendship.  What a funny story with some gross elements such as Rabbit eating his own poo (yuck!)
"A Race for Toad Hall" by Tom Moorhouse and Holly Swain is a wonderful update on  "The Wind in the Willows".  When Teejay, Mo and Ratty find an old
Toad frozen solid in the ice house, little did they guess that it was the (in)famous Toad that they had heard stories of from their grandparents. Toad of course is just as excitable as in the past and when he finds that the weasels have taken over Toad Hall and want to knock it down for a housing estate, he is determined to get it back.  With the help of his new young friends he finds a way to challenge the weasels.  This is a great story full of charm and humour that really retains the spirit of the original and this is captured by the super illustrations by Holly Swain.
I hope that you find some books here that you will enjoy reading, either to yourself or to some others.  All of the stories have the ability to make reading FUN, which is the best way to help children develop a love of reading for the rest of their lives