As a child I had a set of Russian wooden dolls, which were fitted one inside the other.  I had no idea about their  names or what their origins were; I just knew the were fascinating to play with and seemed very exotic, coming from so far away.  I now know that they are called matryoshka or babushka dolls.  The former title implies the mother character and I suppose this is shown by the
outer figure protecting those inside; the latter name is linked to the idea of the Russian grandmother and the very recognizable headscarf that is worn by older generations of Russian women.  However the folk tale about Babushka  is about an elderly lady who spends all of her time cooking and looking after her house, but who one day is visited by three kings who are following a star, in order to find a new king.  She declines to go with them because she wants to clean the house and find gifts for the child.  By the time she follows them they have disappeared and she begins a journey to try and find the child they were searching for.  On her travels she gives away many of the gifts to small children who are in need although she never finds the three king because they have gone back to their own lands and the child has gone into exile in Egypt.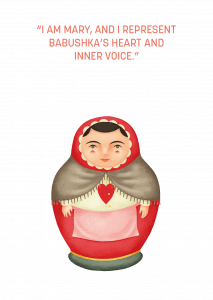 This new story by Catherine Flores brings a whole added dimension to the folk tale.  It blends the element  of the dolls along with the idea of sharing gift with people.  In this version we have the five interlocked dolls, each of which has their own special character; they are Antonia, who represents beauty, Loretta who shows wealth, Paula who is multi-talented, Viola who represents wisdom and finally Mary, whilst she is the smallest she represents love and compassion, something to be prized.  One after another they are tempted away to in order to fully use their talent, until finally it is only Mary who is left.  Gradually she realizes that something is missing from her life and she sets out to discover what that might be.  On her travels she meets her 'sisters', all of whom have been taken advantage of by those they tried to help.  The story eventually sees the sisters reunited and back in the their forest home, together with their friends.
This is such a beautiful tale about the importance of love and caring for those around us.  It also shows us that many of the things that are prized in our modern world are not necessarily vital to our well being.  There are several underlying messages that would be good for people to take on board and which would be a brilliant basis for discussion in a school environment.  The illustrator Ana Beatriz Marques has produced a wonderful group of characters; whilst they retain the look and spirit of the matryoshka dolls, they are all very individual and reflect the qualities of each of the five 'sisters'.  The illustrations really take us in to the world of the dolls and we can understand the world that the author has created.
The author, Catherine Flores is from Switzerland, but now lives on the beautiful island of Madeira with her
partner and their small son.  This is her first book for children and the whole process has been very much her project; however I am sure that we will be hearing more from her in the future.  She has worked with a digital concept and design company to produce the book, as well as a linked website https://thestoryofbabushka.com/.
Thank you Catherine for letting me part of this blog tour for Babushka.