If you are looking for a story full of glamour, adventure, mystery and sibling rivalry then this is definitely the book for you.  The two sisters, Evie and Tallulah are as different as chalk and cheese, with Tallulah having ambitions to become a famous film star;  Evie on the other hand wants to follow in her grandfather's footsteps and become a stage sword fighter.  When they find themselves in Hollywood, it looks as if their dreams might come true, but Evie finds herself being constantly pushed aside by her sister's ambitions.  Things change when it looks as if Tallulah is kidnapped and Evie sets off with some new friends in a bid to find her sister.
I hope that this has whetted your appetite for this exciting tale and that this post from the author Eloise Smith will bring the characters to life.  Thank you to Chicken House and Eloise Smith for this and for the opportunity to take part in the blog tour.
SISTER TO A STAR: A book for girls?
By Eloise Smith
Sister To A Star by Eloise Smith
Middle grade books tend to be highly gendered. Titles beginning 'The boy who . . .' or 'The girl who . . .' are fearsomely popular amongst 9 – 12 year olds. Common wisdom dictates that girls will happily read books with boy protagonists, whilst boys reject books with female protagonists.
However, when I set out to write Sister To A Star, I didn't want to write a 'book for girls'. Growing up, I loved action adventure movies: Indiana Jones, Star Wars, James Bond, even Ghostbusters. So all my favourite characters were male. I imagined myself escaping pits of snakes like Indy, fighting with light-sabres like Luke Skywalker and electrocuting villains like Bond, before delivering witty one-liners like Peter Venkmann.
I could never get very excited about their female sidekicks, who seemed so passive and dispensable as they waited to be saved.
So I decided I wanted to write a high-octane action adventure, full of fights, duels, dare-devil stunts and narrow escapes. What the traditionalists might call a 'book for boys'. The only difference of course, I was that it would have a girl lead. She would be just like my action heroes – really physical, driving the action, fighting, climbing, jumping, tight-rope walking, escaping fire, wild animals and any number of thrilling horrors. Hell, she could even save her own female sidekick. And so emerged my protagonist, Evie.
Evie and Tallulah from Sister To A Star
I balanced Evie with her more conventionally feminine twin, Tallulah. She can dance and act, loves pretty dresses, hair and make-up and dreams of being a movie star. She's as girly as Evie is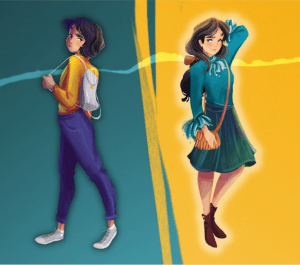 tomboyish. Neither is positioned as a better or worse way to be a girl – just different.
Ultimately, it's only by embracing each other's skills can the twins win the day. So this is neither victory for the clichés of girly girls nor tomboys. It's about encouraging readers to avoid gender stereotypes traps, and be their best self. In the words of the stunt fencing coach in Sister To A Star:
"Just be the best you, don't worry about everyone else."
Sister To A Star by Eloise Smith is available at Amazon, Waterstones, WH Smith and The Book Depository. Happy reading!