Yet again we have a bumper crop of books to celebrate winter and the Christmas season. Among those are some old favourites that have returned, plus a range of fantastic new titles that are going to become firm favourites in the future.  It has got to the point at the moment that I need a longer run up to the festive season in order to get all of my reading done; but of course that means that I get to enjoy the spirit of Christmas for a couple of months.  I hope that you enjoy some of these stories and that they will add to your appreciation of the season.
"A Christmas in Time" by Sally Nicholls is the second adventure for Alex and Ruby as they are taken back to a Victorian Christmas; where they have the task of saving a young ancestor  from being sent to a really awful girls boarding school.  The plot also involves mending family relationships and bringing the true spirit of Christmas to those that they meet.  This is a lovely read for those who are just becoming confident in their reading and I look forward to another story (that was hinted at) in the future.
"Tinsel" by Sibeal Pounder  is a truly magical story about the history of Santa Claus. 
In this version we have a very strong set of female characters, but of course the men in the story tend to get the wrong end of the stick and assume that  S Claus must be a man.  There is a truly horrible villain, Mr Krampus, named after the scary devil figure found in Germanic festivities leading to Christmas, but just is served at the end.  this makes a really original story and is bound to be a great favourite.
"The Night After Christmas" by Kes Gray and Claire Powell  follows on from last year's offering "The night before the night before Christmas" and shows us how Santa and Mrs Claus, together with the reindeer and Elves celebrate the completion of their mammoth task every year.  This is an exuberant, funny and so very happy story for younger readers.  Fantastic for reading to classes and all the little ones in your life.
"Miracle on Ebenezer  Street" by Catherine Doyle.  The hint is in the title as we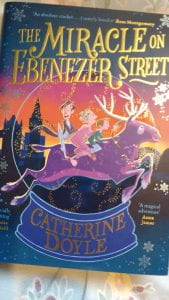 are treated to a wonderful re-interpretation of "A Christmas Carol", but set in the present day and dealing with the aftermath of family bereavement and the profound impact that can be felt for years.  A definite future classic.
"Trouble in a Tutu" by Helen Lipscombe starts off at the Christmas season and is a brilliant mix of spies and ballet.  A full review can be found in my blog post from November.
"A Thing called Snow" by Yuval Zommer is the delightful story of two young animals as they discover winter and,in particular, snow for the first time.  The arctic fox and hare have only heard about winter, as they had been born in the spring, so they find the whole experience quite magical.  The author/illustrator has created a wonderland of images for us and it is a story that works on so many levels and is an absolute delight.
"The Twelve Days of Christmas: Grandma is overly generous" by Alex T
Smith is a totally brilliant and hysterical take on the famous song.  As the author says, it is very difficult to remember the list of items sent on the twelve days, so in the end he made up his own list. It is absolutely mad and I can imagine the fun that groups of children will have in trying to act out this song. Once again Alex T Smith has given us an real gem of a book for Christmas.
"The Empty Stocking" by Richard Curtis and Rebecca Cobb  is the sort of picture book that gives you a nice warm feeling as you read it.We get to see how things turn
out when Santa accidentally puts presents into the stocking of a naughty twin, but leaves nothing for the good sibling.  The magic of Christmas shows that everyone has a good side and that the power of love is limitless.
"Dogger's Christmas" by Shirley Hughes sees the return of one of the most iconic characters in picture books.  It is the run up to Christmas and young Dave (Dogger's owner) is getting very excited and puts Dogger safely in the window.  However after the great day, he cannot find his toy and it looks as if  Dogger has gone, however with the help of older sister Bella, miracles can happen.  There are going to be a few tears and lots of Christmas cheer as this gorgeous story reaches its conclusion.
"Trouble on Planet Christmas" by Kate Saunders is the second in the series
featuring the planet Yule-1 and the Trubshaw family, who find themselves having to help Father Christmas when a rogue inventor threatens to make dangerous toys for presents.  This is a great story for younger readers and the humour is just as infectious as in the first story.  It is yet another brilliant addition to my Christmas shelves.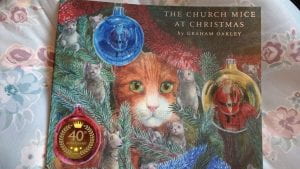 "The Church Mice at Christmas" by Graham Oakley is celebrating its 40th anniversary this year and it is just as wonderful as the first time I read it, all those years ago.  The adventures of the mice and their unwilling ally, Sampson the cat, make for a wonderful story that will be loved by both the adults and children in your life.
"Winter Tales" by Dawn Casey and Zanna Goldhawk  is a
stunningly illustrated collection of folk tales from around the world.  Although there are some familiar tales from Europe, there are also stories from China, Japan and South Africa and they all have the ability to uplift the spirit.  Definitely a great collection for a school where you want to be able to read short, but complete, stories during the day.
"Letters from Father Christmas" by J R R Tolkien, edited by Baillie Tolkien.  I can't believe it is 100 years since Tolkien started writing these letters to his children.  This centenary edition is much longer that the original edition from 1976, which was called "The Father Christmas Letters" and which was also edited by Baillie Tolkien.  The magic that the author was able to create for his family shouts to us from
the page and I am sure that there are many families where following his example has become something of a tradition.  It is a glorious addition to any Christmas collection.