Most of us will have read books about World War II and about the role that children had, sometimes as
participants and sometimes as observers.  This is usually told through the eyes of those on the Home Front or those that are refugees because of persecution.  This story takes a different slant, but nevertheless it is a tale that is based on truth and what happened in Muslim communities in war torn Europe.
The central character in this story is Safiyyah, who lives with her parents in the Grand Mosque of Paris, together with the small community who work in the complex.  As the Germans move ever closer to the city, many of Safiyyah's friends start to move away, but her community feel relatively safe.  However, when the bombs start dropping and the German troops move in to the city, life takes a much darker turn.  Safiyyah is horrified by what she is seeing happen to the people around her and finds it difficult to understand why her father seems to be doing nothing to help those in need.  It is only when she is discovered looking through papers in his office that she is told that he and other members of the community have been providing forged papers and then helping others to escape from the city; in fact there is a whole network based in the grounds of the Mosque.  When her father is arrested for helping Jewish neighbours escape, Safiyyah decides that she has to start helping the resistance in their humanitarian efforts.  What follows is a breath-taking story of courage and daring, as Safiyyah negotiates the dangers involved in leading refugees through the catacombs of Paris, as well as coping with the death of her beloved grandmother and trying to find a way to save her father.
I absolutely loved this story, which helps tell us about the bravery of people that we hear so little about.  This is yet another example of 'ordinary people doing extraordinary things', when faced with the inhumanity shown by some political or religious leaders.  Safiyyah is a delightful character, but as with most young people she tends to see the world in very defined ways.  It is only through experience that she begins to understand that life is far more nuanced and that the adults in her life are having to juggle a multitude of needs.  The relationships between the members of the family really highlights the closeness of all the generations and we really feel for Safiyyah when she realises that her grandmother is not going to survive; but she also learns that sometimes older people want to join those who have gone before them.  This is such a poignant episode that echoes the experience of all those other people who were losing loved ones during the war, but it also resonates today  This is one of those books where you are in danger of running out of superlatives.  There is so much hope, even amid the horrors of war and the importance of family and faith shine a real light in the darkness.  Thank you to the author for such an inspiring story, which is bound to become a classic in future years.
The author
Hiba Noor Khan
Hiba's academic background is in Engineering/Physics, having completed Postgraduate study at the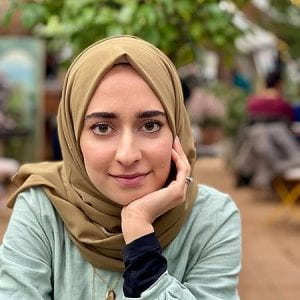 University of Oxford in 2015. Since graduating she has worked in the Environmental Sector, as a Refugee Advocacy Worker for The Children's Society, a Physics teacher and TV presenter. She has a keen interest in social and political affairs and assisted policy research for the Governments Commission on Religion and Belief in Public Life in 2015. Her passion for international development has led Hiba to travel to implement various sustainable development projects in rural Tanzania, and to deliver aid to Syrian refugees in Turkey.