"Youthquake" by Tom Adams and Sarah Walsh is a book that I first came across when it was nominated for the Information Book Award.   It is aimed a Middle grade readers, as well as those in KS3 and focuses on 50 young people throughout history who have had a lasting impact on the world that we live in.  This is a book that is divided into themes, so that creative arts are under the heading "Create and Dream", while sport is called "Lead and Triumph".  It is a book to dip into, as well as to learn more about specific people.  Many of the names are now well known, but there are also many who are just receiving their first acknowledgements.  It shows how people an overcome multiple challenges if they are determined to achieve.
"Just like Me" by Louise Golding, Melissa Iwai and Caterina
Delli Carri is a collective biography of a range of individuals who are neurologically and physically diverse.  It is aimed at the Middle Grade age range, even down to age 7 years according to the publishers.  It is great to see a title that allows young children to understand that we are a world of wonderfully diverse people.
"I am not a label" by Cerrie Burnell and Lauren Baldo is another collection of biographies from the past and present.  All of the people represented are disabled in some way and this book focuses on their achievements, rather than on the disability.  There are quite a few names that I am not familiar with, so it is wonderful to see people from across the world who have overcome many obstacles to achieving their ambitions.
"We are the Beatles" by Zoe Tucker and Mark Wang  AND "We are the Supremes" by Zoe Tucker and Salina Perera.
These two titles are the first in a new series from 'Wide Eyed Editions' and aimed at KS1 readers. The author is beginning to make a name for herself with the range of biographies for young people that she has written, so it is great to think that we have another talent to depend on for many years hopefully.  The stories are told very simply and have underlying themes of friendship, equality and teamwork.  There are some exciting titles in the pipeline and I am really looking forward to the books on NASA Scientists and also the Apollo 11 crew, which are due out this autumn.
"Fearless" by Gattaldo  tells the story of a Maltese journalist, Daphne Caruana Galizia, who was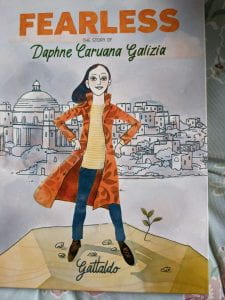 well known for her expose of injustices in her country.  I first heard about her a couple of years ago when there was a TV documentary about her life and an investigation into the bomb  attack that killed her.  This book is aimed at younger readers and emphasizes her belief in freedom of speech and civil rights, it does not cover the horror of her death.  It is supported by Amnesty International and shines a light on the fact that all countries seem to have dark areas in the way they are run and in the way that people are able to live their lives.
"The Fog of War" by Michelle Jabes  Corpora and  Amerigo Pinelli,  AND "Queen of Freedom" by Catherine Johnson and
Amerigo Pinelli are both titles in the best selling series "True Adventures" from Pushkin Children's books.  The range of subjects is extremely broad.  The former title is about Martha Gellhorn an American journalist who managed to be part of the D-Day landings, something that her then husband, Ernest Hemingway, did not manage.  The latter title is about the Jamaican freedom fighter Queen Nanny who led  the revolt of the Maroon people against the British colonial authorities and slave owners in the late 18th century.  All of the books in this series tell us about people that struggled against oppression, stereotypes and colonialism among other issues.  They bring all of this home to the reader in a straightforward and understandable way.
"Little people: BIG DREAMS" is a wide ranging series of biographical books aimed at very

young readers. Written by Maria Isabel Sanchez Vegara they have a range of  illustrators , however they do follow a 'house style' that most people will recognize.  This links in to the small format of the books and also the age range that they are aimed at, which is in the 5-8 years range.  the characters portrayed range from people such as Alan Turing and Martin Luther King, to Captain Tom Moore and Marcus Rashford.   there are also multiple books about famous women, from Mary Anning to Frida Kahlo and Coco Chanel. One of the latest that I came across is about the iconic
figure of Iris Apfel, who at the age of 100 is still a major figure in the fashion world and an example to us all.   Hopefully some of these titles can be found in every school and library.