This summer has been a real mix of weather and there have been many occasions when the best idea is to just curl up with a good book and a hot drink, however as I am finishing this post over the holiday weekend the sun has come out and reading starts to be enjoyable in the garden.  This has meant that I have managed to read more than my usual quota of books over the last month or so.  A few of them are review copies for journals and I have to admit that they have all been ones I enjoyed reading; not something that I take for granted.
"The Polar Bear Explorers' Club" by Alex Bell is a magical tale, set in an unreal world with Unicorns, miniature penguins and man-eating cabbages to name just a few of the weird and wonderful characters.  Stella Starflake Pearl, the heroine, has been brought up by her guardian since he found her as a baby.  He is a member of the Polar Bear Explorers' Club and Stella dreams of joining him in his travels, but girls are not allowed to be explorers.  How she overcomes this challenge, fights a range of dangers and finds out about the mystery of her own birth makes for a really exciting and  action packed story.  There is magic and adventure as well as messages about what family really means and the importance of friendship.  I was completely hooked by this story and am really looking forward to the next book about Stella and her friends.
"Greta Zargo and the Death Robots from Outer Space" by A.F. Harrold, illustrated by Joe Todd Stanton.  I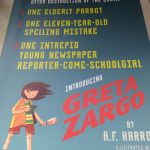 was lucky enough to hear this author/poet speak at a conference earlier this year, so I was excited to see what this story would be like.  Well, it was just as hysterically funny as you might imagine with a very determined heroine Greta Zargo, who really wants to be an investigative reporter.  There is the case of the missing cakes and the competition to win a reporting prize but in the background and moving ever closer to Earth is a Death Robot; can Greta find the culprit and save the planet at the same time.  You will have to read it to see.
"Chase" by Linwood Barclay is the first story for children by a well known writer of detective
novels.  He has given us a mystery with two main central characters.  Their stories start individually but gradually things begin to merge until eventually we understand how they are linked together.  Chipper is a dog that has been kept in a scientific research facility since he was young.  He knows that the 'white coats' have done things to him, but his increased abilities allow him to escape and go on the hunt for someone (unknown) that he just has to find.  On the other side of the State lives Jeff, who has gone to live with his aunt after the tragic deaths of his parents.  How these two come together and what their connection is makes for a thrilling and very addictive story.  The next in the series should be a real roller-coaster I suspect.  One for years 6 and 7.
"You can't make me go to Witch School" by Em Lynas.  Daisy Wart just wants to become a great Shakespearean actress but her grandmother insists that she is a witch and sends her off to witch school.  Despite her protests she finds that she can do magic and she and her new friends are called upon to save Toadspit Towers (her school) from an ancient curse.  can she do this and also achieve her acting ambitions?  This is a funny and exciting story about finding yourself and also about friendship.  It is great for the lower end of KS2 and those who just want a light and very enjoyable story.
"Podkin One ear" by Kieran Larwood brings back memories of stories by both Brian Jacques and Robin Jarvis, which means that 
perhaps I am showing my age to some extent.  It is a fantasy with rabbits as the main characters, so there is also a nod to Richard Adams and 'Watership Down'.  They are anthropomorphized, so that we are taken to a somewhat medieval landscape with warring  tribes and three young rabbits who are fleeing from a terrifying enemy and who have to save an ancient treasure.  It is a thrilling story for 'middle grade' children and could well be a favourite for many years to come.
"The Starman and me" by Sharon Cohen (NG) reminded me somewhat of 'Stig of the Dump'by Clive King, 'Nation' by Terry Pratchett and another new book by Adam Stower called 'King Coo'.   When Kofi sees an unusual small and very scruffy person on a roundabout he is in for the most amazing adventure of his life so far.  The character finally
makes contact, but is he from our world and if so, how did he get to England?  this is one of those books that gradually hooks you and then reels you in.  A really great read.
"Hospital High" by Mimi Thebo (NG).  this is a book for teens and is very personal to the author as it is based on a true story.  It is the story of Coco, who ends up in hospital after a car accident, where she suffers internal injuries including crushing her voice box.  The ensuing months and years follow her struggles to regain her health, but also to see how her relationships with family and friends pan out.  It is a totally uplifting tale that I will probably read again  and would definitely recommend to other adults as well as to the intended audience.
"School for Skylarks" by Sam Angus (NG)  follows the story of Lyla who is evacuated to live with her Great Aunt at the end of 1939.  She does not want to leave her mother and hates her father for splitting them up.  This is a real roller coaster of a story; the heroine is not one we naturally find sympathetic but over the war years we follow her as she gradually matures, both emotionally and intellectually.  More by accident than design Lyla finds that a small girls' school is billeted in the big house and she learns how to work with others and gradually make friends.  It is such an heartbreaking story at times, but eventually we get a satisfying end that works well.  This is definitely an author to look out for.
"Ban this book" by Alan Gratz (NG) is a thoroughly thought provoking story of what happens when Amy Anne's favourite book is banned  from the school library.  For those of us who have been around for a long time it will bring back memories of "The day they came to arrest the book" by Nat Hentoff.   The situation in America is very different and they even have an annual 'Banned Books Week', so that people can stand up for their right to read what they like. If you look on the American Library Association website you will see the list of hose books which have been challenged over the years, you can find it here http://www.ala.org/advocacy/bbooks/banned .
"The Escape from Mr Lemoncello's Library" by Chris Grabenstein (NG) is an exciting story of a group of children who win the change to have a sleepover at the amazing Mr Lemoncello's Library.  It is a place of wonder and mixes science with magic so it is not surprising when the challenge becomes harder and the young people have to learn how to work as a team in order to escape from the 'lockdown scenario' they find themselves in.  It is a great story and I am looking forward to reading the two other stories featuring the library.
Looking at this group of books I think I have been very lucky with the titles that I have been given access to recently.  The range of subjects is wide ranging and the age groups are also wide.  There is everything from high fantasy to the really heart rending stories based on real life.  Hopefully there is something for everyone, so dip in and give some of them a try.
(NG)  Thanks to Net Galley for providing access to a digital proof in return for a review.